CyrusOne Office Building & Data Center
Architecturally and structurally unique, this project presented engineering challenges. GrayWolf's proactive approach to coordination and cooperation with all team members was critical to success.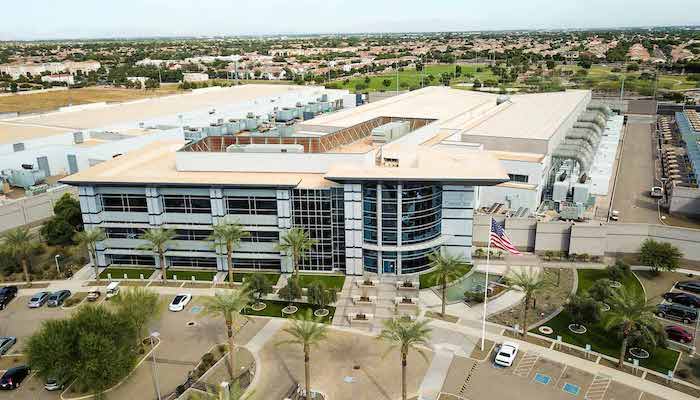 Data center construction expertise
With increased global reliance on working remotely, the need for storage and processing power drives an unprecedented need for data centers. From mainstream needs like global cloud demand and the anticipated 5G networks to cryptocurrency mining facilities, the demand for data centers has crossed the line from trend to what is now considered to be the norm.
The speed in which a data center needs to be constructed brings less then complete designs along with aggressive schedule demands. At GrayWolf, our expertise in 3D modeling and modularization during preconstruction pushes the most pertinent areas of design across the line for proactive decisions for procurement, shipping and construction to be made, allowing our teams to deliver the project on time and on budget.
SERVICES

Digital Engineering

Modeling & Detailing

Design Assist

Constructability Planning

Procurement

Fabrication & Modularization

Erection

Mechanical / Piping

Digital Twin &
Facility Management
TYPES OF PROJECTS

Lorem ipsum

Lorem ipsum

Lorem ipsum

Lorem ipsum

Lorem ipsum

Lorem ipsum

Lorem ipsum

Lorem ipsum

Lorem ipsum

Lorem ipsum
SERVICES

Digital Engineering

Modeling & Detailing

Design Assist

Constructability Planning

Procurement

Fabrication & Modularization

Erection

Mechanical / Piping

Digital Twin &
Facility Management
Total data center projects
in the last 3 years
Total revenue in the data center
market in last x years
Mustang NBY Data Center Building 1
Receive Our Quarterly Supply Chain Report
Gain industry insights that drive the cost of structural steel & materials