Southern Company was kicking off their CCR/ELG program with Scherer being the largest coal fired plant in the country.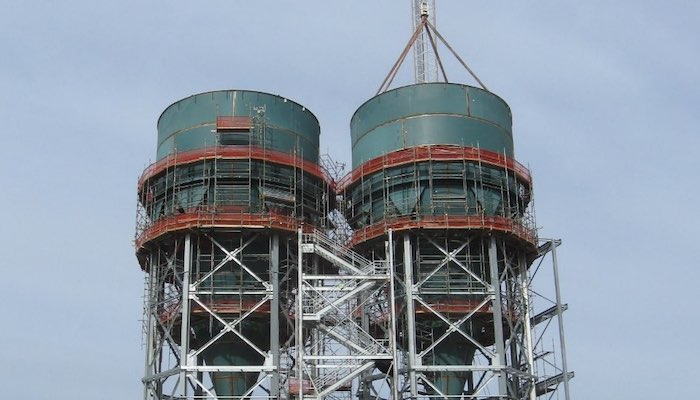 Accelerating decarbonization
As the US charts its path to becoming carbon-free by 2050, we understand the pressure bestowed on the to the energy industry to lead this charge. For over four decades, GrayWolf has been intimately close to gas, coal and nuclear facilities constructing, upgrading and maintaining boilers, scrubbers, heavy equipment rigging, process and utility piping systems and more. Staying in step with the evolving needs of this industry, GrayWolf has the capabilities to help clients ensure efficient shutdowns, turnarounds and decommissions by leveraging 3D models capabilities and workflows.
TYPES OF PROJECTS

ACCs

ASME Pressure Vessels

ASUs

Boilers and HRSG's

Ductwork

Equipment Skids & Modules

Piping

Scrubbers

Structural Steel Fabrication

Tanks (Shop fabricated &
components for field erect)
SERVICES

Digital Engineering

Modeling & Detailing

Constructability Planning

Procurement

Fabrication & Modularization

Heavy Plate Work
& Misc Fabrication

Structural Steel
Fabrication & Erection

Tanks & Vessels, Fabricated
or Field Erected

Civil

Equipment Installation

Electrical & Instrumentation

Mechanical / Piping

Core Maintenance

Shutdowns

Relocation
Total energy projects
in the last 10 years
Years of experience working coast to coast in power plant maintenance, new construction and upgrades.
Full time maintenance contracts maintained for 5 coal fired power plants
Perryville Power Station 2×1 Combined Cycle Construction
Receive Our Quarterly Supply Chain Report
Gain industry insights that drive the cost of structural steel & materials